The Devices view gives you an overview of all your physical and virtual devices. Each of these tables have a search box at the top right corner of the table which allows you to filter the table on any particular string.
Physical devices are separated into two tables: unracked and racked devices.
a. Add a Physical Device
​Before you can place a physical device in a rack, you must add the device to the dRACKula database using this interface. To add a new device, click the button at the top of this tab. A physical device is comprised of a few different components, as seen in the screenshot below:
Device Info
,
Asset Info
and
Monitoring Tools
.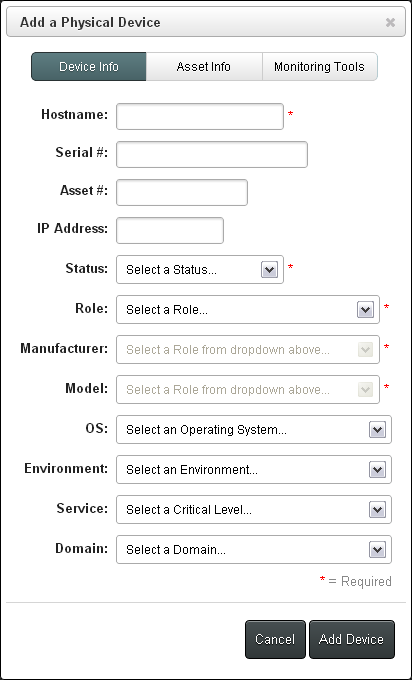 However, not all of this information is required to add a physical device. Required fields are marked with a *.
b. Edit/Remove/Locate a Device
To the right of the hostname, you'll find the options button similar to the one found in the Rack View Interface. Clicking this icon will display a set of options you can take on each device - edit, remove or locate.
Virtual Devices

a. Configuration
In terms of accessing options and making edits, virtual devices are much like physical ones. The major difference between the two is that virtual devices have no asset information and, of course, require a physical host to be linked to.

b. Locate a Virtual Device
If you search for a virtual device using the global search bar, it will direct you to the location of the physical host.

c. Viewing VMs
Aside from the configuration page, you can view of virtual guests of a host in the Rack View Interface. While in the detailed view, physical hosts show a View VMs link located to the right of the hostname.

Access Logs
dRACKula logs each action made and can be accessed through the dRACKula logs interface.
NOTE: You must have admin access to view the logs.